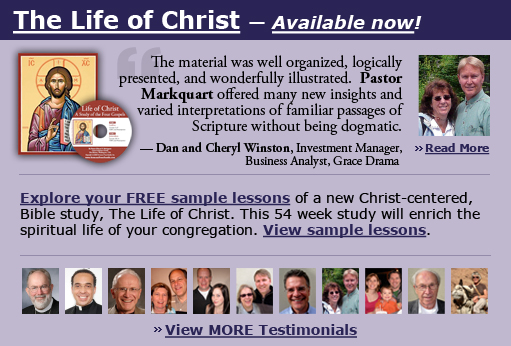 Epiphany 3A Matthew 4:12-23
Epiphany 3B Mark 1:14-20
Epiphany 5C Luke 5:1-11
Fishing. Many of us have our favorite fishing stories that have been told again and again.
Many of us have our "fishing thrills" stories. The story involves a thrill of the catch, and we remember those circumstances with a keen memory. I remember vividly the strike of a steelhead down on the Sixes River in Oregon so many decades ago, with its flashing tail shimmering in the shining sun. What a tug of war with that fish in that river. There is nothing like a thrashing steelhead caught in a river. I remember the German Brown striking on a fly rod in the Metolius River in Oregon, the fly drifting down along that bank and out from the bank, flashed that German brown. I remember drifting the Kenai River up in Alaska with bait bobbing below our boat into the riffles and that big, glorious salmon hitting it. How I remember all the salmon hitting out there in front of Redondo, so many fish, so many stories, so many thrills. It is always a thrill to catch the big one. We fishermen remember those moments with clarity. I talked to my friend Mike Rex the other night at a party and he had great fishing stories of his fabulous fishing over there at a small fishing town on the Washington coast where he caught 200 pounds of salmon in two days.
A fisherman also has stories about "fishing fanatics." There are people who are fishing fanatics, like my Uncle Lawrence. We were a family reunion one day, and Uncle Lawrence, Dad's brother, brought out a whole bunch of picture of crappies from his wallet. He was a proud man, proud of all of those fish he had caught. I asked to see a picture of his wife; he didn't have one. His children; he didn't have one. His grandchildren; he didn't have one. But he had a gob of pictures of his fish. Uncle Lawrence was a tad embarrassed that he didn't have pictures of his family but he was might proud of those pictures of his fish.
A fisherman has stories about "fishing friends." One of my fishing friends is Clyde Hume. We share many stories. One time, Clyde missed netting one of my salmon I had caught. I was peeved at him, to say the least. He missed with the net and the salmon got away. After I stewed about it a while, I told him that I hope that God would allow me to do his funeral someday far in the future. At his funeral I would tell how Clyde missed netting my big salmon and I hoped that God would be a better netter of him on judgment day than he was of netting my salmon today. We laughed.
A fisherman often has "fishing with grandpa" stories. Many people have memories of sitting out in a lake with a grandfather, waiting patiently for that perch or whatever to strike. My kids certainly have such memories fishing with Grandpa Cook on Turtle Lake in Wisconsin. The fish would play with the bait, the red bobber would move and swirl a bit and then suddenly, down it would go as the perch grabbed the bait. What a thrill for any grandchild. What memories with Grandpa, his long cane poles and sitting for hours in his green boat. I hope my grandchildren develop similar memories of fishing with me.
A fisherman often has "I learned from the experts" fishing stories. Fishermen always learn from the experts. Experts like Tom on the Internet site, "Salmon Univerity." Tom is an expert. Tom works at Auburn Sports Marina and you have to stand in line to learn from the wisdom of Tom. Or Jim Irish in our parish goes fishing every day during salmon fishing, in the water at 4:00 in the morning and he is back to work by 7:00. Jim always makes the extra effort to get up and keep his bait in the water. He also knows bait and which bait to use. Another expert is John Laakso in our parish. He is a Ph.D in mathematics from Boeing but he learned the ways of the salmon from the old salt fishermen from the end of D Dock in Des Moines. These old guys were professional gill netters in their day and they know fishing. Laakson learned from the old pros on D dock and now he catches fish. And herein lies a tale.
Today's story is a fishing story. It is a fishing story about Simon Peter. Simon Peter, as you know, was a fisherman by trade. He fished the Sea of Galilee. It was and is a big lake, thirteen miles long and eight miles wide. Like many of you, Peter had his own fishing boat and he was in a fishing partnership. It was a fishing family with his brother Andrew and his good friends, James and John. Basically, they were gill netters. They weren't sports fisherman. … Some of you have been up in the Straits of Juan de Fuca during the summer at night, and have seen all those beautiful lights of the fishing nets out on the Straits. It's a beautiful sight. … Gill netting was and is hard work. The fishermen would fish all night, so the fish wouldn't see the nets during the night. In the morning, they would take in their haul of fish, salt their fish, and take it to town to sell their fish at the market.
Let's use some power points as we look at the story of Jesus for today.
-Once while Jesus was standing beside the lake of Gennesaret, and the crowd was pressing in on him to hear the word of God, Jesus was almost instantly popular with the crowds of people. We can feel the crowds of people on the shore of Lake Galilee. We know that this lake was a good resource for fish and that fishing was a common trade.
We can imagine a crowd pressing in on Jesus, eager to hear him teach the word of God.
http://www.keyway.ca/htm2002/seagal.htm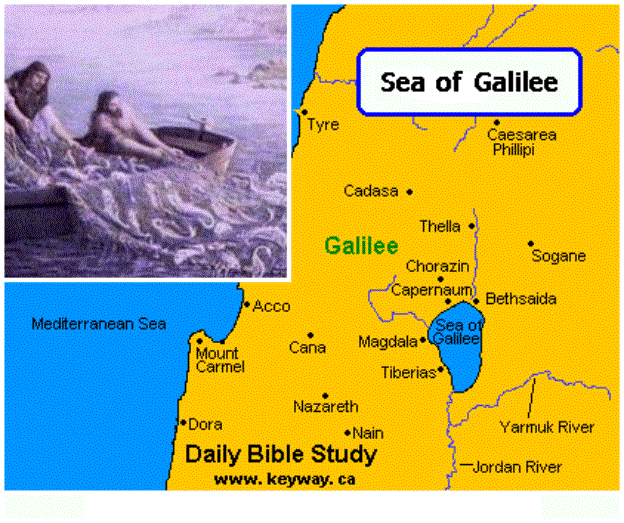 Notice that the land is barren of lakes except the large Sea of Galilee. This land does not look like the 10,000 lakes of the State of Minnesota. Nor were there any lakes or streams to be found in and around Jerusalem. We recall that Jesus spent his adulthood in fishing village of Capernaum and Peter was from the fishing village of Bethsaida, both on the shores of Lake Galilee. In other words, Jesus used the primary metaphor about fishing with people who understood fishing.
Examine the upper left portion of the image above. Focus on the disciples pulling in a whole bunch of fish. The net is almost bursting.
http://www.christiananswers.net/bibleplaces/home.html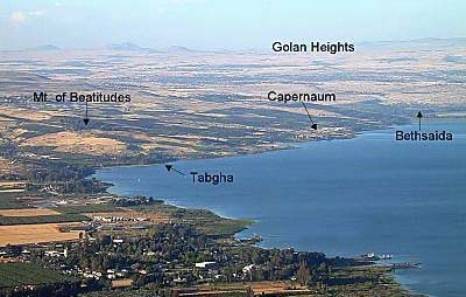 Look carefully at his visual taken from an airplane above the north end of the Sea of Galilee. Note the location of Capernaum and Bethsaida. These were two fishing villages. People in this villages would have understodo fishing.
http://www.bibleplaces.com/seagalilee.htm.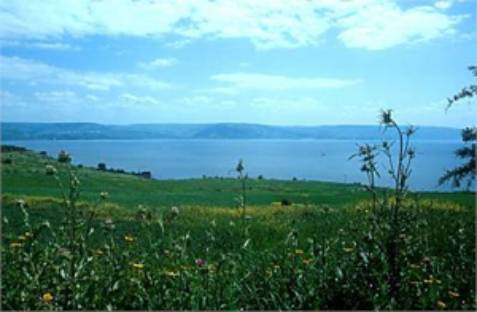 The lake was a big lake, thirteen miles long and seven miles wide and is only 150 feet deep.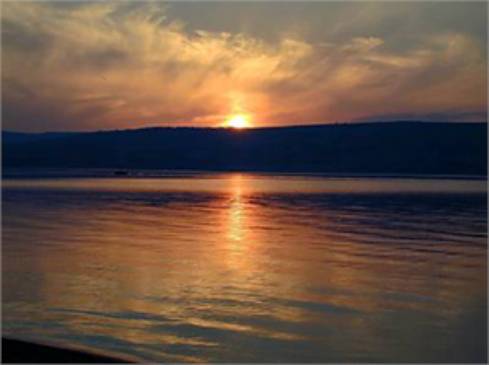 -He saw two boats there at the shore of the lake; the fishermen had gone out of them and were washing their nets. Luke, our insightful narrator, knows the details of this story: two boats, the shore of the lake, the fishermen were not in their boats but were washing the nets on the shores. These are wonderful details given to us by someone who knew the story. Below, see a painting of two boats on a lakeshore.
http://www.paulmcintyre.co.uk/Images/55t.jpg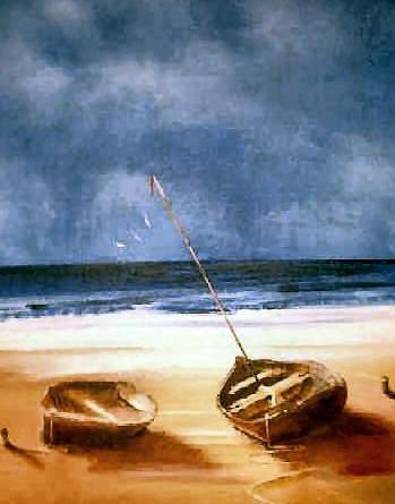 In the story, we hear about the fishermen repairing their nets. Below are visuals about fishermen repairing their nets.
http://www.edinphoto.org.uk/0_a_l/0_around_edinburgh_-_newhaven_fishermen_moe038_mending_nets.jpg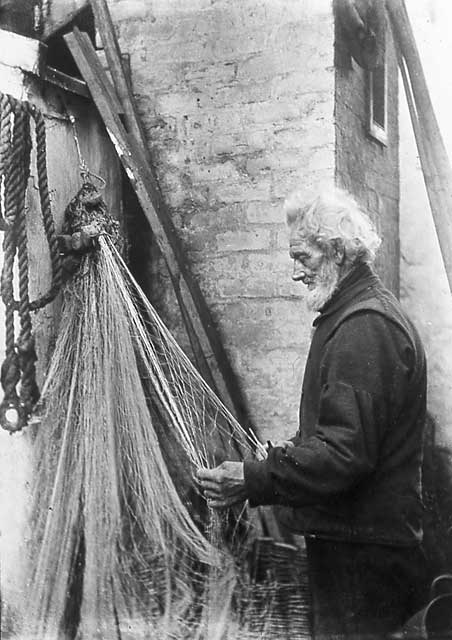 http://www.garycook.co.uk/Africa/Malawi/Photo47464.jpg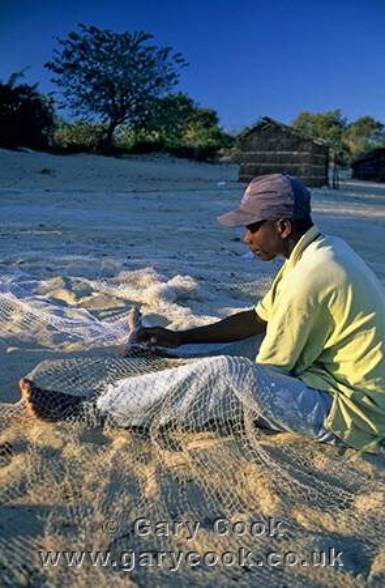 Carefully examine the boat picture below which was first discovered in 1986. It was a dry year that year in the area of the Sea of Galilee. This boat was found and became one of the most important archeological finds of recent years. Remember that the boat was 26 feet long. This boat was not a small row boat but a large fishing vessel. Perhaps Smon and his friends had similar boats.
http://www.mfa.gov.il/MFA/History/Early%20History%20-%20Archaeology/The%20Roman%20Boat%20from%20the%20Sea%20of%20Galilee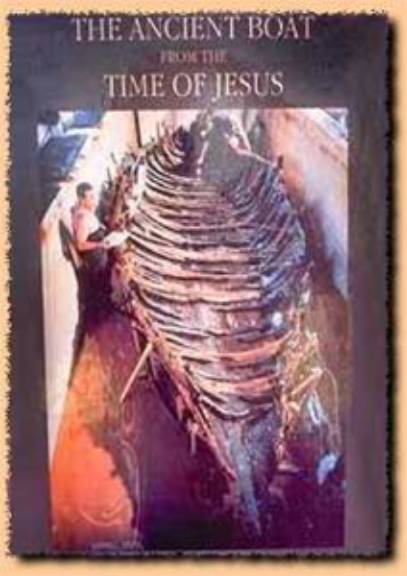 "In 1986 a boat (crude in today's terms) thought to be some 2,000 years old was found buried in the sand along the shore of the Sea of Galilee. This wooden vessel from the first century was discovered near Nof Ginnosaur on the lake's northwestern shore. Studies have determined the type of wood was used (mainly cedar and oak), the style of construction (mortise and tenon joints), the date (on the basis of construction techniques, pottery and Carbon 14 tests) and the size (26 by 7 feet - big enough for 15 men)." Remember: 26 feet long; room for 15 men.
"Three types of fish were primarily sought by fishermen in antiquity in these waters. Sardines like were the "two small fish" that the boy brought to the feeding of the 5000. Sardines and bread were the staple product of the locals. Barbels are so known because of the barbs at the corners of their mouths. The third type is called musht but is more popularly known today as "St. Peter's Fish." This fish has a long dorsal fin which looks like a comb and can be up to 1.5 feet long and 3.3 lbs in weight."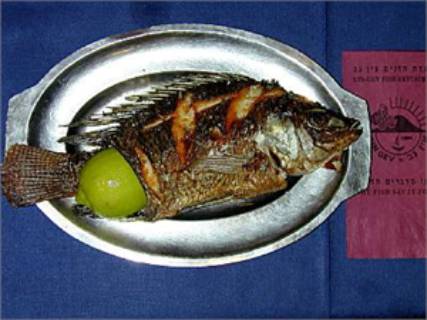 -He got into one of the boats, the one belonging to Simon, and asked him to put out a little way from the shore. Again, notice the detail of the story. One boat belonged to Simon, and Jesus got into his boat and not the other one. These are all colorful details that add to the authenticity of the scene.
Jesus asked Peter to put out a little way from shore. Again, this is a vivid memory of a specific scene from Jesus' life.
-Then he sat down and taught the crowds from the boat. A person can easily imagine Jesus teaching crowds of people sitting on a lakeshore while he was in a boat talking to them.
Circle the words, "then he sat down." What a detail. Peter recalls that Jesus sat down in the boat and began teaching the crowds from ... his own...boat.
-When he had finished speaking, he said to Simon, "Put out into the deep water and let down your nets for a catch." From the beginning, the reader understands that Jesus was interested in something more than simply catching fish.
Jesus knew enough about fishing that the fish were not to be caught in shallow water right off the shore but in deeper water.
-Simon answered, "Master, we have worked all night long but have caught nothing. Yet if you say so, I will let down the nets." Simon was the professional fisherman; Jesus was not. The disciples were not fishing with a fishing rod, reel, line and hook but a fishing net. The disciples were fishing with nets, most likely seigning nets.
Already, Simon was addressing Jesus as "master." Yes, he Peter will do as Jesus asked. Underline the phrase, "if you say so." Already, Peter's heart was being caught by the love and spiritual authority of Jesus, so much so that Peter would act against his better fishing senses and go fishing again, even though he had caught nothing all night. He may have been thinking to himself, "Jesus is a good religeous teacher but not much of a fisherman."
http://www.ohs.org/education/oregonhistory/_files/_doc_files/GillNetterRosterRock1891P260.jpg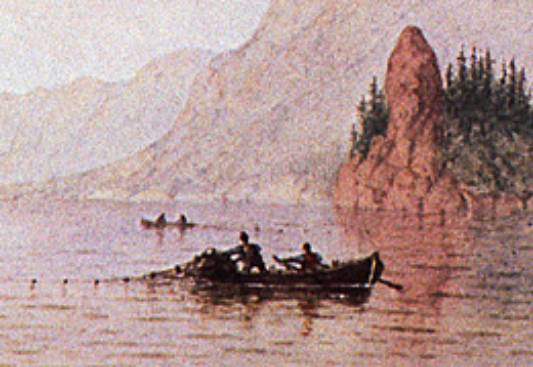 In the picture above, we can see two boats and four fishermen. With gillnets and not fishing rods. This scene may have been similar to the scene on the lake that day.
http://www.wcg.org/lit/bible/lessons/fishing%20net%20&%20rope%20copy.jpg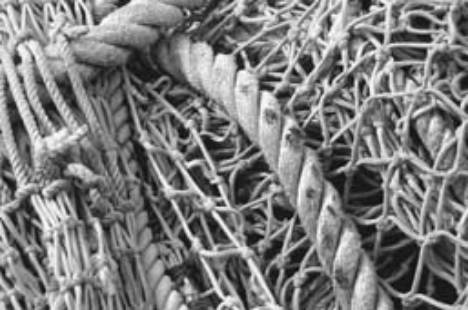 In the picture above, we think of nets rather than rods and reels.
http://www.kinneret.co.il/holyland/boatx.jpg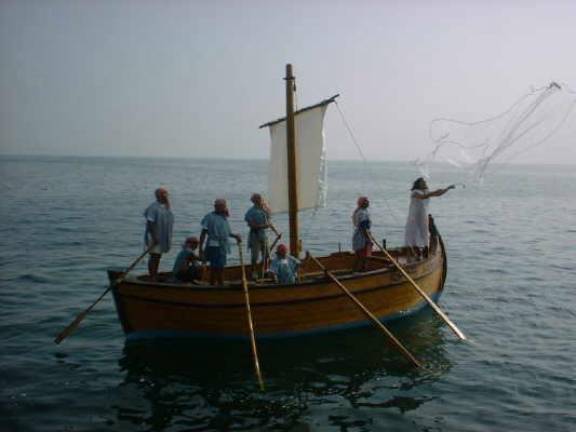 In the above picture, we can imagine Peter casting out the net from a large fishing boat.
-When they had done this, they caught so many fish that their nets were beginning to break. So they signaled their partners in the other boat to come and help them. And they came and filled both boats, so that they began to sink. Whoa!!! There were lots of fish, so many fish that they began to sink both boats. What a miracle. What a parable. What a sign for these first disciples.
The implication is that there will be numerous people "caught" for God/Christ and the ways of God. That will become the primary purpose of the disciples: to catch numerous people for Jesus Christ. That will become the primary purpose of the church: to catch numerous people for Jesus Christ.
There were so many fish that the nets broke and the implication was that there will so many people caught for Jesus Christ that nets/buildings/stadiums can't hold them.
As a preacher preaches this sermon, we think of images of fullness.
http://www.bluegreenpictures.com/i/39/119262.jpg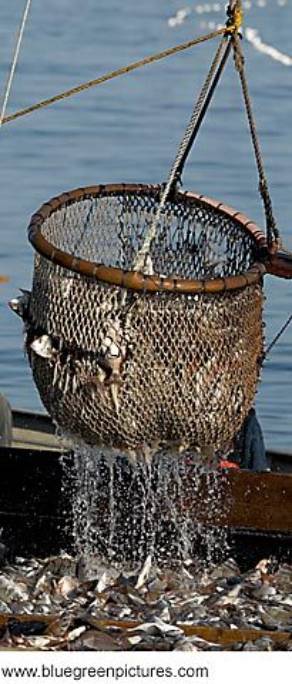 There were partners in the other boat. We will discover that they were James and John.
-But when Simon Peter saw it, he fell down at Jesus' knees, saying, "Go away from me, Lord, for I am a sinful man!" Like Isaiah in the Old Testament, when he experienced the holiness of God, he said, "I am a sinner, a big time sinner, a sinner through and through." Such was the attitude of Peter. Circle the word, Lord. Even without knowing it, Jesus had become Simon Peter's "Lord."
http://www.jesusmafa.com/anglais/imag15.htm
Mafa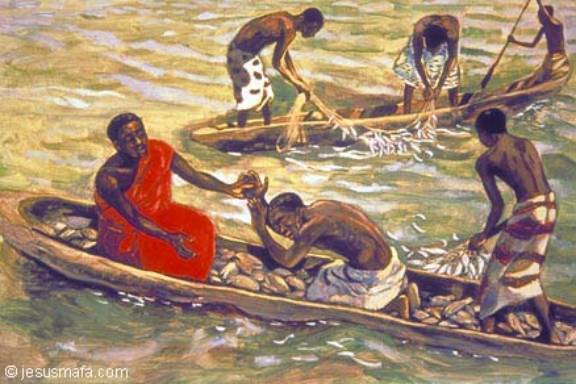 The painting above is from the African Mafa. Mafa usually has Jesus wearing the color red. We can see Peter kneeling before Jesus, confessing his sin. We can see an African re-creation of this scene, with two boats, four fishermen, and swarms of fish in the boats and in the net as well.
http://www.nga.gov/cgi-bin/pimage?95581+0+0
Bassano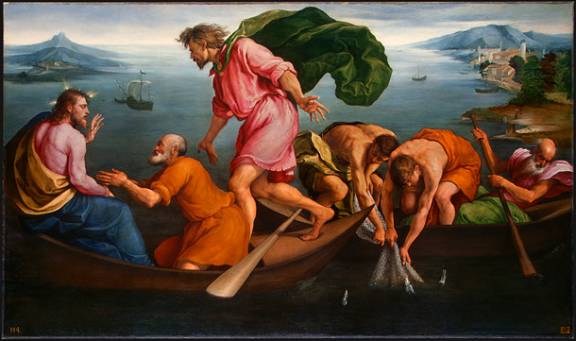 In the above picture by an Italian,. Bassano, we clearly focus on Peter kneeling before Jesus.
http://www.nationalgallery.org.uk/cgi-
bin/WebObjects.dll/CollectionPublisher.woa/wa/largeImage?workNumber=NG680&collectionPublisherSection=work
Ruebens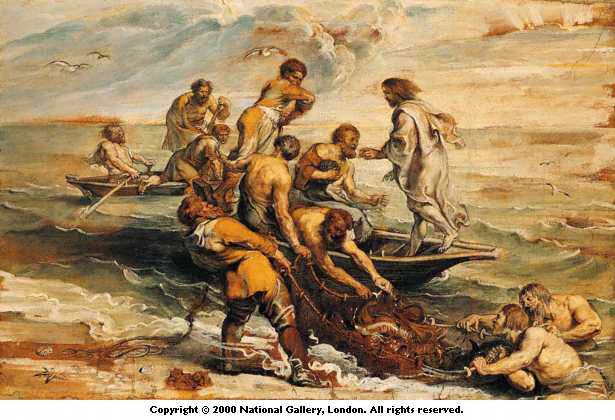 Focus on the earthiness and commonness of the fishermen. Jesus' first disciples were common and earthy fishermen. They weren't the educated elite or the Jewish rabbis of Jesus' day. Also notice Peter kneeling before Jesus.
-For he and all who were with him were amazed at the catch of fish that they had taken; and so also were James and John, sons of Zebedee, who were partners with Simon. As human beings, we are always amazed at miracles, at the ways that God enormously blesses us at certain specific times in our lives. In his mind, Peter knew that he was experiencing a miracle, that the Lord God had intervened in his life at this particularly life-changing moment.
Like all good fishermen, Peter remembered the miraculous size of the catch that morning and he knew that the Lord Jesus was sending him in a new direction: to catch numerous other people for Jesus Christ, for the gospel, for the kingdom and the ways of God.
Then Jesus said to Simon, "Do not be afraid; from now on you will be catching people." Underline it. Highlight it. Memorize it. "Do not be afraid. From now on you will be catching people."
Many of us Christians are afraid of being evangelists, missionaries, and fishing for Jesus Christ. We need to hear Jesus' words to his first disciples. "Do not be afraid." Jesus spent three years teaching his disciples how to catch people. From our community of disciples today, we want to learn how to fish for Jesus Christ. Many or most mainline denominational Christians are afraid of "fishing for and catching people" for Jesus Christ.
That is the fishing story for today.
From this and other Biblical passages, we know that the mission of the church today is to fish for people, to be used by God to catch people for Jesus Christ. We know that the symbol of the church is a fish, in the Greek language, ICTHUS. If you take the first letter of the following words, Jesus Christ, Son of God, Savior, you get the Greek word, ICTHUS, which means fish. You often see a small, black, rectangular sign, with a symbol of the fish on it. You see this sign on car bumpers and doors. It simply stands for fish. Christians are called to be fishermen and fisherwomen. We are to be taught to fish for people. It is the central mission of the church.
After Jesus said to his disciples, "follow me," he then said "I will teach you to fish for people." The last thing that Jesus said to the twelve disciples was from the Mount of Ascension where his final words on earth were, "Go and make disciples of all peoples."
So the first thing and the last thing that Jesus said to his disciples was: fish for people. Make disciples of all people. That has always been the primary ministry of the church.
Shortly, Simon Peter gave his first sermon and 3,000 were baptized that day. Throughout the centuries of history, innumerable people have become disciples of Christ. Last Easter, more than two billion people worshipped Jesus was Lord.
Here within the Lutheran church, we have often had difficulties with learning to fish for people. Some examples:
Unfortunately, the Lutheran church hasn't been into this fishing mission so seriously. That is, when the Lutheran church began in Saxony in Germany, all the people in that province were either Roman Catholic or Lutheran. There was no need for a fishing mission program when everyone around was assumed to be Christian. For 200 years, the Lutheran church did not get around to sending out missionaries. Why? Everyone around in Saxony were Lutherans or Catholics. It was called "corpus Christianum," where you assume the nation around you is Christian so you do not evangelize and then do not send out missionaries for 200 years.
It is also fascinating to me to read Martin Luther's commentary on this passage about the fishers of men. Luther missed the point of the text for today. He said that in this passage, "God gives us all the fish and food we need for daily sustenance." That is true, but not the point of the text.
John Wesley, on the other hand, the founder of the Methodist church, understood this text well when he wrote: "Christians are to go into the hills and dales, the highways and hedges, the markets, the fairs, the barns and the villages. Christians are to go out everywhere with the Gospel." For two centuries, the Methodist church was good at doing this. I am suggesting to you that the Lutheran denomination historically has not been good at the mission of fishing for Christ.
This has also been true of our congregation, Grace Lutheran Church. When I look a the number of adult baptisms and reaffirmations of faith from those who dropped out of the church and are now coming back, prior to l973, we had almost no adult baptisms and affirmations of faith. These are two measuring sticks for how we are fishing: adult baptisms and affirmations of faith. For many years, we had numerous adult baptisms and affirmations of faith. Since we built our new sanctuary, we have again fallen back to where we were before, with little effort and energy being put into fishing for Christ. In recent years, our adult baptismal rate and affirmations of faith has been almost non-existent. Last year, we had only one adult baptism. How sad. The number of first time visitors is only half the number it was five years ago.
Grace Lutheran Church isn't spending much time fishing anymore. We talk about fishing; we pray about fishing for Christ; se preach sermons about fishing, but not many people are acting fishing anymore in our congregation.
So how do we go about changing and becoming better fishermen and women for Christ? How did Peter and Andrew, James and John, become good fishermen for Christ. That is our focus for today. Like Peter in the story for today, we need to learn to fish for people.
We discover that the principles for good fishing are the same principles involved in good evangelism or fishing for Christ.
What are some of the marks or characteristics of a good fisherman? Whether you are a commercial fisherman or a sports fisherman, the characteristics are the same. I have talked to the "old pro" fishermen like Norm Carlsen and Lee Jones. I have talked to Jim Irish and John Laakso. They should know if anybody should. This is what they told me about the marks of a good fisherman.
What are the marks of a good fisherman? "You gotta love it. It has to be in your blood. It's an absolute pleasure. To live in that wind and rain, cold and sleet, it has to be in your blood." That is what these old salts of fisherman told me.
In order to be a good fisherman, they also said "You have to be dedicated to it. You have to get up at three in the morning. The best salmon fishermen are on the water when it is dark. The lazy salmon fishermen come at seven in the morning. When it is pitch black and there is ice coming down from the sky and you are baiting your lure with a flashlight, you have to be nuts to do something like that. You have to love it. You have to be dedicated to the task. Your dedication grows out of your love." Any good fisherman knows that ten percent of the steel headers catch ninety percent of the steelhead. That's the way it is. A good fisherman is dedicated. That is what Norm and Lee, Jim and John told me. The good fishermen make the extra effort.
Another mark of a good fisherman is that they are experienced. If you haven't fished much, chances are that you are not that good at it. If you fish a lot, you learn from other fisherman. It is basic. If you are a good fisherman, you didn't learn it on your own. Somebody taught you. A grandpa. A grandma. A father. A brother. An uncle. If you are a good fisherman, somebody else taught you and you began to slowly develop your own experience. If you are a greenhorn at fishing, chances are you get skunked quite often. John Laakso has a Ph. D. in math but he had to learn to fish from the old pros out at the end of D Dock in downtown Des Moines.
Another mark of a good fisherman is you have to know the fish. You have to know what and where they are biting. You have to know where the good holes are. At what depth. What they are biting on. What they are hitting on. You have to get the latest information from someone who knows what they are biting and hitting on. The fish are there; that is not the problem; there are hundreds and thousands of fish in the water down below you, but how to catch them is another matter. You have to learn that information from other fishermen or your past records. That is what these "old pros of fishermen" told me.
Another mark of a good fisherman is patience. Patience. You have to sit so long sometimes to catch those trout, to catch those perch, northerns or salmon. You need to learn to sit patiently and wait and wait and wait, trying different lures and baits and depths and speeds and holes. You don't have to tell good fisherman about patience. They live with patience.
Those are some of the marks of a good fisherman.
Jesus said, "Simon, if you follow me, I will teach you how to fish for people." If you are a follower of Christ, Christ teaches you many things. Christ teaches you how to love. Christ teaches you how to forgive. Christ teaches you how to pray. But Christ also teaches you how to fish for people. Simon Peter had to learn. Simon had to learn a new skill, a new talent, a new ability. If there is one thing true about a good fisherman, he had to be taught by other skilled fisherman. If you are a follower of Christ, you too are learning what it means to be a fisher of people. Simon had to learn it and you and I need to learn it as well.
What does that mean for us? What are some of the characteristics of becoming good fishers for people? As a pastor, I teach many people about what it means to love, forgive and pray. I also would like to share with you insights that I have learned about fishing for people, so that they would be caught by Christ.
The first is attitude. You need to have the right attitude to be an effective fisher of people. As a fine fisherman, you need to have the right attitude and the same in fishing for Christ. It is an infectious attitude, a contagious attitude, a positive attitude. These effective fishermen love Christ, the things of Christ, the ways of Christ, the people of Christ, the church of Christ. They love bringing themselves to church; they love bringing their families here. I could give many examples of many of you here today, e,g, Carley Marchitto, a young ninth grader, who loves Christ, loves her church, loves her Christian faith, and brings most of her girl friends to church. Almost all of her girl friends are now in confirmation; their parents are now coming and joining the church. From the Bible, we know that a child shall lead them and Carley certainly is a leader in our church. She is enthusiastic for Christ, her faith, her congregation and her positive affection rubs off on her friends. She has the right attitude and you cant' be a fine fisher for Christ without the right attitude.
The second thing I notice about good fishermen and women for Christ is that it does not take fancy equipment. Some people have fancy boats and fancy down riggers and fancy rods and reels to catch their salmon, but they will all be skunked if they don't know the fish or if they fish at the wrong time of day or fish in the wrong season or fish in the wrong holes, etc. You need to have some basic, simple equipment to do the job. What is the simple equipment of most effective fishermen and women for Christ? The love of Jesus in your heart and for another human being. It is all the equipment that you need. Love for Christ; love for others as you are talking to your family, friends and work associates. You don't need to know a lot of Bible verses. You don't need to take the Bethel Bible Series or the Crossways Bible Series or go to Bible Study Fellowship and learn all that you learn. I have discovered that people with a wealth of Biblical knowledge are not any more effective fishermen and women than others. Fancy equipment isn't thekey to good fishermen. Ask Carley or anyone like her. The longer that you are fishing for Christ, the longer you learn that unchurched people are not asking the hard of questions, Biblical questions, theological questions. Hard questions aren't getting in their way of becoming disciples. The point is: you need simple and good fishing equipment and that simple equipment is the love of God/Christ and love for other people in your soul.
A third quality of good fishermen and women is knowing where the fish are and what they are biting on. This is very important. There are times and places where the fishing is hot, and you need to be there fishing at those times. The same is true for fishing for Christ. There are times when people are more hungry for Christ, spirituality and spiritual values. Sociological studies have been done on people who have experienced adult baptisms or reaffirmed their faith as they come back into the life of the church after being gone for five years or more. Where are the "hot spots?"
There are three definite "hot points" or "hot holes" to use a fishing analogy. One "hot time" is in preparation for a Christian marriage. This is true of younger couples who may be more open since they know how difficult marriages can be; younger couples sense a need for Christ in their new marriage, especially since they have experienced so much divorce among their families and friends. Also, an older couple coming to the church after having gone through a divorce, two or three divorces, and are now coming to Christ and the church looking for help and guidance, looking for the love of Christ to live inside of them. You need to look for Christian conversations with friends or family during this time.
Another "hot point" has to do with family and children. 77% of the unchurched want their children to come to Sunday School. That number is incredible, if you stop to think about it. In our crazy mixed up world today, with mass murders and school murders and sex, violence and pornography a standard diet on any television show, parents are looking for another alternative. That alternative is often the Christian community, and the power of the Christian community when Christian teenagers influence other teenagers. Many people join churches looking for a vigorous youth ministry precisely because they are worried about their children. You need to be talking with your family and friends with children. Tell them about the wisdom of starting children early in church and how hard it is to start them later when they are more rebellious. Parents understand this.
A third "hot spot" or "hot hole," to using a fishing analogy is people experience a "spiritual emptiness" inside. Look for variations on the word, "empty," "something is missing in my life," "there is a hole in my heart." All of these language patterns reveal a need for God, for Christ, for the spirituality of God living inside of a person. In a materialistic, fast paced society, it doesn't take long before someone realizes that something basic is missing. Be ready for these conversations. It was Jesus who said, "The sick are the ones who know their need for a physician. Those who think they are well do not go to a doctor. Likewise with God. Those who are not well in the spirit and know their need of God for themselves, their family, their children, they are the ones who look for Christ and are receptive to the Great Physician."
A good fisherman? You need to know where the hot holes are and fish there. You don't simply troll down the middle of the Puget Sound hoping to snag a salmon. You go where the holes are, where the fishing may be potentially hot.
The fourth quality of a good fisherman or woman is this: you need to set the hook. When fishing for salmon, you need to set the hook. When fishing with grandpa and the red bobber pulls down into the water, you need to set the hook. It is an art to setting the hook. Some will pull the bait out too quickly. The fish is nibbling on the worm and the child doesn't get the fish a chance to take the bait, but pulls it up too soon. Or waits too long. There is an art to setting the hook. So it is in fishing for Christ: you need to develop the art of setting the hook. Setting the hook refers to giving them a specific invitation. The question is: "Would you go to church with me tomorrow?" Not, "would you come to church with me sometime in the future?" The question is specific, with a time frame. You ask the question, "Do you want talk about your marriage now? Your kids now? Your emptiness now?" You are willing to ask that specific question. Children in Sunday School can invite and do invite other friends to come with them to Sunday School. I have found that confirmation kids invite their friends to come to confirmation.
The last quality of a good fisherman is key: the longer you do it, the better you get. If you haven't been fishing much for Christ in life, chances are that you are not very good at it. It takes a while, but you keep at it, and pretty soon, you become a more experienced fisher of men and fisher of men, so that more people are caught for Jesus Christ.
When people follow Jesus, life goes much better for them, for us. When we follow Jesus, things go better in our marrriges, in our families, with our kids, at work, with the neighbors. Most of us know that things go much better in life when we follow the ways of Jesus, the love of Jesus, the forgiveness of Jesus.
The primary mission of the church has always been to encourage others to follow Jesus. That is what fishing for people is all about.
Jesus said to Simon Peter and you and me, "Today, I will teach you to become a fisher of people, that these people may be caught for Christ." Simon Peter and his brother and friends dropped everything else to learn this new behavior, this new skill, this new way of living. In the future, they would learn about love, forgiveness and prayer. But on this day, they began learning to fish for Jesus Christ. Amen.



Back to Top