Explore your FREE sample lessons of a new Christ-centered, Bible study, The Life of Christ. This 54 week study will enrich the spiritual life of your congregation. View sample lessons.


---
00

Dan and Cheryl Winston
Investment Manager, Business Analyst, Grace Drama

"We really enjoyed this course, The Life of Christ. This was the first time we studied all four gospels side by side. The material was well organized, logically presented, and wonderfully illustrated. Pastor Markquart offered many new insights and varied interpretations of familiar passages of Scripture without being dogmatic. This in-depth study of Christ has enriched our Sunday morning worship experience as well as subsequent small group Bible studies. As newer member of Grace and non-Lutheran in background, we would recommend this class to both new and mature believers as we believe this class has much to offer all Christians. We have attended several courses by Pastor Markquart and have been richly blessed by them all."

---
00

Dr. Roland Martinson


Academic Dean, Professor of Children Youth and Family Ministry, Luther Seminary, St. Paul, Mn.

"While doing a national study of vibrant congregations, a team of researchers visited Grace Lutheran Church, Des Moines, Washington. We discovered youth and adults hugely fluent in Scripture. These men and women knew the Bible, loved the Bible, and, ably interpreted the Bible. In short, the Bible deeply influenced their lives.

When asked about their Biblical fluency, these people regularly referenced interesting, engaging Bible studies that informed their identity and influenced their behavior. Whether they had studied with Pastor Markquart in confirmation, senior high Sunday School or in adult Bible classes, they described an engagement with God's Word that made a difference in their lives. Edward Markquart's passion for Scripture, careful interpretation of the Biblical message, and engaging teaching clearly formed the spirit of this vibrant community of faith." Dr. Roland Martinson

---
00

The Rev. Wm Chris Boerger




Bishop, Northwest Washington Synod, Evangelical Lutheran Church in America

"For those of us who know Ed Markquart, we know that his ministry has been shaped by the intentional study of Scripture and the application of the Word to the world around him. Grace Lutheran Church, Des Moines, WA was shaped by Ed and his commitment to good scholarship in an understandable medium. His confirmation material (The Bible for Today) has been used across the church to form the faith of young people. His books on preaching (Quest for Better Preaching, Augsburg) and evangelism (Witnesses for Christ, Augsburg) have been used across the church to enrich the lives of pastors and congregations. The Life of Christ is a study that takes the four gospels and brings them tangibly into the lives of the user. Ed's role as teacher, pastor and author continues as he equips a larger audience to use the story of Jesus in their lives."
---
00

John Arthur Nunes




President and CEO Lutheran World Relief

"It is not coincidental that Grace Lutheran Church of Des Moines, Washington, has a history of premiere mission action in Haiti, El Salvador, Mexico, Russia, East Germany and Jamaica, the country of my birth. Neither is it coincidental that this church is one of the top three congregations to support the work of Lutheran World Relief. I give credit to the Holy Spirit's use of Pastor Edward Markquart, a man of creative fidelity. His resources shine with detailed faithfulness to the God's Word coupled with engaging imaginativeness. Immerse yourself in The Life of Christ, and you will be motivated for mission. As another transformational leader put it, "The Word of God always comes first. After it follows faith; after faith, love; then love does every good work, for… it is the fulfilling of the law" (Martin Luther)."
---
00

George Stein
Age 90, WW II Marine (Guadalcanal, Tarawa, Saipan, Tinian), father, grandfather, great-grandfather, architect, Boeing, ski partner

Pastor Markquart's Bible study, The Life of Christ, is "the best." During my long lifetime (I am 90!), I have had the privilege of attending many wonderful Bible studies, but this course is by far the best and greatest I have ever attended. Pastor Markquart is a superb teacher and Biblical researcher. The time that I spent in his class was WOW! I just loved the course and my spiritual life has been immeasurably enriched. Why was this course such a great experience for me? So wonderful and enjoyable? It is hard to put my finger on it, but I was again touched by the Spirit and gracious love of Jesus Christ.
---
00

The Marx Family: Dorsey, John and son Jordan


Flight attendant, professional pilot, Contemporary Worship Band (vocalist, sax)

"My name is Dorsey Marx. My husband, John, and I took Pastor Ed Markquart's Bible class on The Life of Christ via the four gospels. This was the most in depth Bible study we've ever taken, and we were amazed! We had never really thought much about why the four gospels were different from each other. Pastor Markquart is a very captivating and energetic teacher/speaker, and we were so blessed to be involved in this class. He showed us maps, artwork and photographs that made the Bible stories really come alive for us in a way we had not experienced before. John and I have a whole new appreciation for the Bible now, and we hope to pass along that appreciation and love of God and His word to our son. — Dorsey Marx
---
00

Jerry and Mary Jane Wert
Engineer, Para-educator, Parents, Youth Advisors

"We have known Pastor Markquart for over 25 years and have had the privilege of attending many of his Bible studies. The Life of Christ is another one of his incredibly engaging courses. The content of this study and the different angles he approaches the gospels from allows everyone to grow in their faith and understanding of the depth of God's love for us. The format he uses also encourages participants to be actively involved which fosters new friendships. The course is particularly enjoyable because of the extensive use of art, maps, quotations, and contemporary interpretation. Time spent in this study of the four gospels will be time well spent."
---
00

Chris and Haley Schultz


Single Father and 16 year old daughter, Microsoft but now a nursing student, Volunteer Director of the Homeless Shelter Grace Lutheran

"I took this course, The Life of Christ, when my daughter, Haley, was younger. It was a time in my life that I will always remember. We both went to this class together on Tuesday nights. She did her homework at a back table while I learned about Christ at a table surrounded with new friends. What better gift can a father give his daughter than to learn about Christ.

These lessons have been put together and taught by one of the best Biblical teachers I have ever known. This is a class that you will never forget. If you take this course, or teach it, you will find an experience that does not return to you empty. Your heart and head will be filled with the knowledge of the love of God and the story of Jesus."
---
00

Kathy Martinson
Retired flight attendant for Boeing, wife, mother, grandmother

"I was born and raised in the Christian/Lutheran Church so I've been involved with many Bible studies during my life. But when I participated in Pastor Ed Markquart's two year study of the four gospels, The Life of Christ, it all came alive for me! His knowledge of the Bible is extensive but what also helped me better understand the life of Christ were the many examples he used of different artists' illustrations of the life of Jesus, along with maps of the Holy Land. I could then grasp the logistics, differences, and similarities in the gospels. This all greatly helped in living my life as a Christian. It also helped prepare me for our trip to Israel immediately following the last class he taught at our church, which was the most meaningful trip of my life!
---
00

Pam and John Korn
School social worker, engineer, parents, (Pam, Past president of Grace Lutheran Church)

John Korn: "I have known Pastor Ed Markquart for over seventeen years and have attended several of his Bible study classes. During these classes, we often call him Rabbi Markquart. This course, The Life of Christ was Rabbi Markquart's best. I particularly look for Bible studies that help us relate to the events, culture, customs and traditions of that era. This gives us a better understanding of Biblical writings and phrases. We can then better relate the Bible to our own current culture, beliefs, and values. Also, during this course, we viewed many works of art. These works of art, combined with the Bible study, provided a visual meaning to the Biblical text. These paintings were inspirational and allowed us to visualize/see/remember an incident in Jesus' life. This course was actually fun and very educational. It was personally memorable and life-shaping."
---
00

Brian Patton


Director of Engineering for Seattle Public Utilities, husband, father, coach of Girls Fastpitch

"I have attended Grace Lutheran Church and known Pastor Markquart since 1977 (over 33 years). I have had the opportunity to attend many of Ed's classes and have enjoyed them all. I particularly enjoyed The Life of Christ as it truly helped the journey of Jesus come alive for me. His extensive use of maps to clearly illustrate space, distance, terrain, and physical obstacles helped me to understand why Jesus took the routes he did and just how he was able to affect the entire region. The research pastor performed really helped me to understand Jesus' incredible journey and his incredible life. I would recommend the class to anyone. There is certainly something in it for everyone."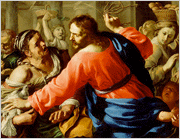 Online Resource
Thousands of hours have been spent researching the Internet to find the best possible visual images that capture significant moments in the life of Christ.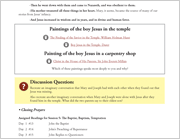 Easy to follow PDFs
The lesson plans are superb, with a smooth flow to each lesson: a brief presentation with PowerPoints, focused Bible study, visual aids, and discussion questions.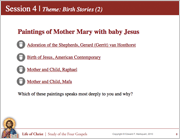 Customizable PowerPoints
All class presentations use PowerPoints. Both the presentations and PowerPoints can be easily modified to reflect the specific values of the instructor.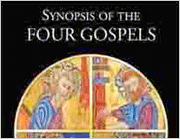 Synopsis of the Four Gospels
The American Bible Society has recently (2010) produced a new version of this "classic" resource with colored images of the four gospel writers on the cover. This "new" book is beautiful.